Hawkins Cellars: Journey to Underwood Mountain
One of the first to stake a claim on Underwood Mountain in the Columbia Gorge AVA, Hawkins Cellars offers "flights through a world of wine" that include Burgundian-inspired Pinot Noir, tactful Rhônes, and minerally-driven whites
Written by Mark Storer and photographed by Michael Peterson
Wine Reviews by editor John Vitale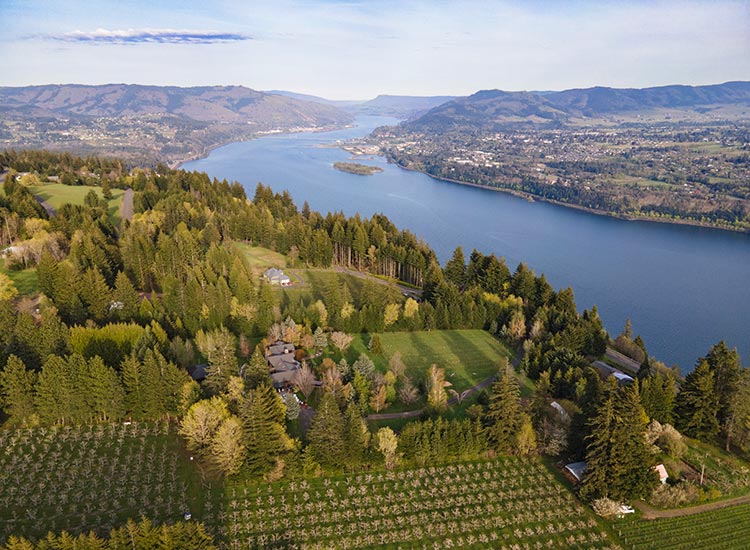 ONE DOESN'T NEED to ask Thane Hawkins what brought him to Underwood. At 1,400 feet in elevation above the Columbia River Gorge, and with a chamber-of-commerce view of Mt. Hood to the south, our initial greeting included his saying to us, "turn around." The entire view, on a blue-sky spring day with bright sun, flecks of clouds, light breezes, crisp, fresh air and temperatures hovering near sixty, makes tasting at Hawkins Cellars a trip worth taking.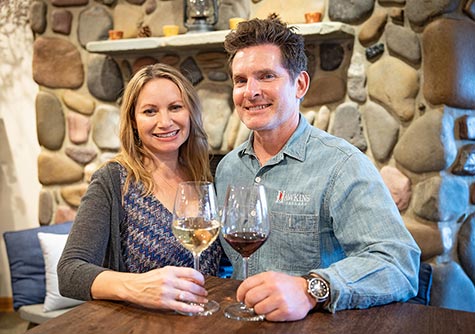 It's clear that the property he shares with his life-partner and business partner, Deb Michelson, is a gem on Underwood Mountain. Along with the wines themselves, they pose a strong draw to make the turn off of Highway 14 through the Gorge. The tasting room is cozy inside, with a rustic bar, wooden floors and a few tables. Rolling out the sliding door onto the sloping lawn are picnic tables and Adirondack chairs, all there to provide that inspirational view along with a taste of Hawkins Cellars wines. Thane's self-starter entrepreneurial step into the wine industry completes the character of this place, with Deb handling the marketing and event side 
of the winery.
The couple met in 2010, while Thane was living and making wine in the Willamette Valley. "I think I always knew the Willamette Valley probably was not for me," concedes Hawkins. "I love it—it's beautiful and bucolic—but this area along the Columbia Gorge always spoke to my heart."
Together, Hawkins and Michelson "started dreaming" about making wine on the mountain, and by 2013 had planted one-and-a-half acres of Pinot Noir grapes. By 2017, they opened the tasting room, and production has climbed to about 2,000 cases of wine per year now.
"We wanted to source grapes here and we're committed to sub-Alpine, cool climate wines," says Hawkins. 
"We were one of the first wineries to stake our claim on Underwood and focus on Underwood Mountain wines." There were other vineyards, most prominently Celilo Vineyard, long famous for its Chardonnay and other cool climate varietals. AniChe Cellars' vineyards were there as well. "They also had a tasting room in Hood River and were sourcing grapes from elsewhere, too," Hawkins says.
The Mountains Are Calling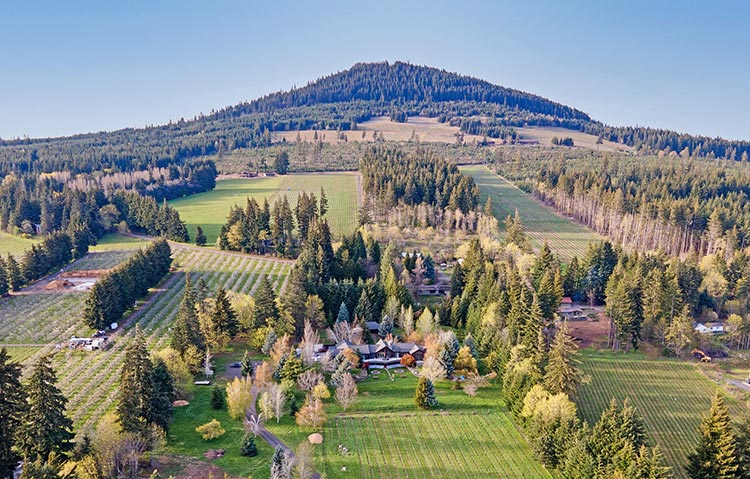 Hawkins' path to Underwood Mountain, however, is not a traditional winemaking path. A California refugee who worked with Dreamworks and then Pixar animation studios, Hawkins developed the visual portion of films; things like shading, coloring and lighting of scenes. He worked on the films "Antz" and "Shrek" for Dreamworks and "Monsters, Inc." for Pixar. He also was in charge of assembling the final shots of the films into a finished product. "It was a lot of responsibility, but I really did love the work," Hawkins says. "Film making is a real blend of art and technology, and in that way not terribly different from winemaking."
Hawkins took a break from his animation career and headed north to Portland, establishing roots there in 2001. He landed a job teaching graphics, animation and multimedia, but it wasn't as satisfying as he'd hoped. Having explored Napa and Sonoma wines, Hawkins said he turned his attention toward Oregon wine.
It was in the Willamette Valley that he realized there was something more to it for him. "I started diving into the nuances of Pinot Noir and talking to farmers and it piqued my interest," he says. "I found that the taste and aesthetic side really fueled my curiosity and creativity. It captured my imagination for sure, but I never imagined I could make a living at it.
"I really started falling in love with the Pinot scene. It was much different back then than it is now, and through meeting people I was able to get a harvest internship in the Willamette Valley in 2006." In addition, Hawkins made wine in his own garage with mixed results. "I knew I needed to get more training, and I needed to do another harvest." Luckily, he met Chris Lubberstedt of Methven Family Vineyards in the Willamette Valley and became an assistant for the harvest. "He became a mentor for me," said Hawkins. "I learned a lot with him."
Methven leased out a portion of its winery as a custom-crush facility and, surrounded by other winemakers, Hawkins was able to glean a lot of information. "I would taste their wine and think, Okay, I see what's happening here. I'm a bit of a sponge and it might be one of my better qualities. You have to develop your own style within light of what has already been done," he says.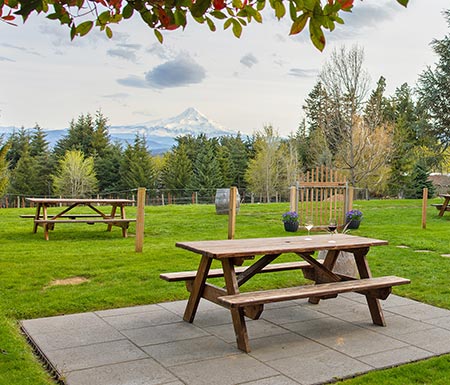 500 Cases of Wine And A Full-Time Job
Although Pinot is king in the Willamette Valley, Thane began to explore the idea of producing some of the varietals that he had loved while living in the Bay Area. An avid outdoorsman, his explorations had taken him around the Yakima Valley in Washington, where he quickly discovered that there were excellent wines being grown there, specifically Rhône varietals such as Syrah. "I love the complexity and versatility of Washington Syrah. I decided, why limit myself to just Pinot Noir?" For the next five years Hawkins would make small quantities of Pinot Noir and Syrah, while also working full-time at an animation studio in Portland.
By 2011, Hawkins had 500 cases of wine and a dilemma. The economy was in recession and his wholesale accounts had dried up. But he persevered. "I got a lead on a tasting room in downtown Dundee. The rent was cheap and people really responded to the fact that we were offering more than just Pinot Noir. We signed up a bunch of wine club members and were off and running." By the following year he was able to quit his job in animation and make wine full-time.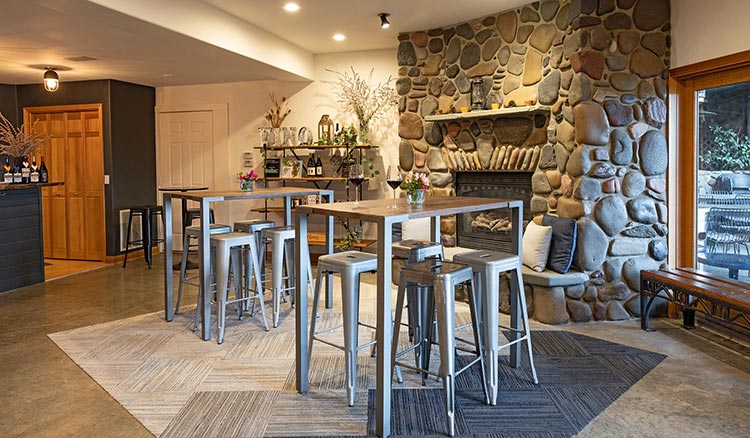 Wandering From The Willamette to the Columbia Gorge
While the Willamette Valley had been fertile soil for learning and falling in love with Pinot Noir, Hawkins knew it probably wasn't the ultimate destination for him. It was the previous year he'd met Michelson, and the pair thought about what they could do with the property Deb originally owned on Underwood Mountain. He'd spent time enjoying recreational activities in the Columbia Gorge and developed a love for the place, crossing the Washington border and feeling right about the possibility of grape-growing here. "People said, 'yeah, but you're doing Willamette Valley wines,' and I replied, 'not for long.'"
Hawkins began exploring cool climate white wines on the mountain, paying attention to the concerns about high acidity and other characteristics. "We were finding fun things to do with these cool climate varietals." One offering is called TruNorth, a blend of Gewürztraminer and Pinot Gris, grown in Underwood that has floral aromatics with off-dry notes and structured acidity. A distinct minerality wraps the core of the wine, and is a beginning to understanding the European wine characteristics that Hawkins focuses on in his winemaking.
Estate Pinot Noir
Still passionate about Pinot Noir, Hawkins brought that Burgundian sensibility to his estate grown Pinot. It may seem counterintuitive bringing Pinot Noir to higher elevations on the Washington-side of the Columbia, but Hawkins believes the climate and soils are perfect for the varietal. "It's an interesting challenge growing Pinot Noir up here. I always think there will be too much acidity, but it ends up rounding out nicely in fermentation."
Calling it his viticulture education, Hawkins said he learns more with each vintage of the Pinot Noir he makes. "It's a matter of working with the vintage," he explains. "2019 was cool and a sort of Burgundian and Willamette Valley kind of vintage. The temperatures weren't as extreme. It is tough to grow world class wine grapes and I've developed a lot of respect for grape growers, that's for sure." That constant love of experimentation allows Hawkins to make his wine with attention to each vintage's detail. "When I envision this business, I envision having a flight through a world of wine," he says.
With a growing wine club and increased attention to wines from the Columbia Gorge AVA, Hawkins feels comfortable in Underwood. "There's a clear story for us here. We're a Washington winery making Underwood and Yakima Valley wines, and we are part of an up-and-coming region. This is a very good place to grow grapes."
Editor's Top Picks
Wine reviews by editor John Vitale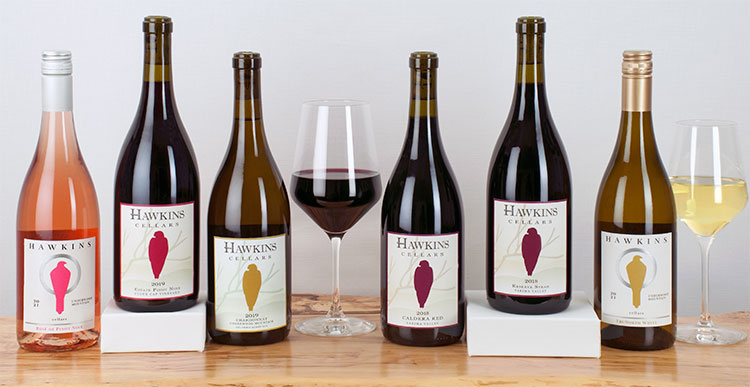 Hawkins Cellars 2021 Rosé of Pinot Noir, 92 pts.
Refreshing and zestful, brimming with ripe strawberry and white peach flavors cloaked with racy acidity, lime and mineral details. Slightly unctuous, resulting in a stylish combination of having an almost creamy feel that finishes with mouthwatering juiciness. Sourced from Celilo Vineyard. $26
Hawkins Cellars 2019 
Estate Pinot Noir, 95 pts.
Elegant throughout, with a refined, ethereal feel buoying the structure backed by a spine of supportive tannins and assertive acidity. Aromas of cherry and floral rose petal mingle seamlessly on the palate with raspberry and red plum flavors that show purity. Finishes gracefully, with underlying minerality and a dusting of chalk. Sourced from Cloud Cap Vineyard, Columbia Gorge AVA. 100 cases produced. $50
Hawkins Cellars 2019 Underwood Mountain Chardonnay, 93 pts.
Made with grapes from White Salmon Vineyard, this clean Burgundian-style white offers vibrant mineral and chalk details that flirt with appealing peach and lemon citrus, backed by crisp D'anjou pear and fresh apple. Notable structure throughout the lengthy finish, the minerality shows fine persistence, trailing with lime zest notes. $32
Hawkins Cellars 2018 Caldera Red, 93 pts.
Robust, with floral and earthen scents, teeming with classic Rhône-style garrigue, black and red berries, licorice and cardamon notes. Leather and violet accentuate the lively finish, offering medium-bodied weight backlit by a nice swath of acidity. Mourvèdre, Syrah, Grenache, Viognier. 150 cases produced. $36
Hawkins Cellars 2018 
Reserve Syrah, 94 pts.
A lush, velvety texture sets the stage for this Yakima Valley red with alluring aromas and flavors of blackberry and dark blue fruit. Red currant, white peppercorn, bay leaf, dried thyme and hints of black tea are edged in between the earth-infused flavors that resonate with length and concentration on the rich finish. Sourced from Chandler Reach Vineyard. 150 cases produced. $42
Hawkins Cellars 2021 TruNorth White, 91 pts.
A fragrant blend of Pinot Gris and Gewürztraminer, abundant with honeysuckle, white fruit and spice aromatics. Lightly juicy with pleasing flavors of honeydew, Bartlett pear, lychee and hints of quince. Stony minerality flickers across the zesty finish. Sourced from the Columbia Gorge AVA. $24
Hawkins Cellars 2020 Barrel Select Viognier, 93 pts. 

A supple yet vibrant version, with floral and nutty aromatics and multi-layered flavors of dried apricot, nectarine, mango, macadamia nuts and orange blossom. Full-flavored, finishing with brisk acidity and lingering spice notes. Sourced from Lonesome Spring Ranch Vineyard in the Yakima Valley. Try pairing with grilled seafood or creamy cheeses. $28
Tour & Taste at Hawkins Cellars
Hawkins Cellars & Estate Vineyard
10401 Cook-Underwood Rd, Underwood WA
Phone (503) 505-4359
www.hawkinscellars.coms
Hawkins Cellars: Journey to Underwood Mountain